Today the author would like to share with you a light and extravagant style of warm colours birthday balloon arrangement scheme, this scheme is more suitable for the western restaurant or some environment is better in the small private room to produce, the party atmosphere will be more intense, and the overall aesthetic balloon will be a little better. Next, the author gives you an analysis of this work.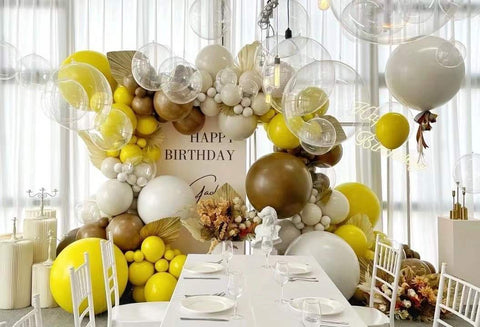 Balloon colours: lemon yellow, grey, coffee, black, white, metallic gold
Balloon size: 5" 10" 18" 36"
Many people are attracted to this work at first sight by its colours, so the author first introduces the colours: the yellow of this piece is lemon yellow combined with grey, the coffee of this piece is coffee combined with black, and the light yellow of this piece is white combined with gold.
The advantage of this piece is that the natural light in the environment is particularly good. With plenty of natural light, the piece will actually look good no matter what colour it is. Especially works of this warm colour, with the addition of the bobble ball, will make the whole piece stand out.
The author has put a lot of simulated flowers in the work, which are actually more expensive than real flowers, but they can be used repeatedly and are not particularly expensive. The effect of the whole piece will be on a higher level after it is put on, so if conditions allow, you can try to add some simulated flowers.
Finally, I would like to explain the balloon chain for this piece. If you don't know how to use long balloons or ribbons to wrap the balloons in a figure of 8, you can use balloon arch tape and put the balloons in according to the location of the holes. If you want a deeper and more spacious balloon chain, go for more 5", 18" and 36" balloons.
For more on the birthday scheme shopping experience, you can see the website :https://www.topballoonee.com/