Birthdays can be considered their own holiday of the year, and both boys and girls should celebrate them as a gift for all the hard work they have done throughout the year. In addition to a sophisticated outfit for your birthday, you should of course have a beautiful set up for your birthday so that you can take nice pictures. Aside from the familiar rose gold colour scheme, you can actually venture into the darker side of things, with a cool birthday setting that is sure to grab everyone's attention. Both boys' and girls' birthdays are perfect for this super cool dark-themed balloon set-up, where young people have to refuse to be vulgar.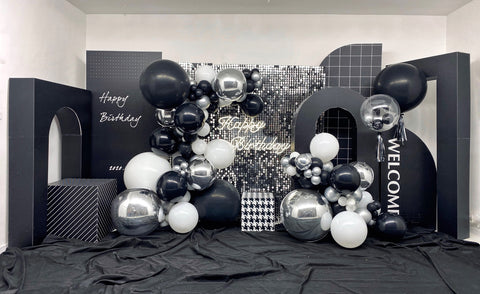 The balloon colours and sizes required are explained below.
Balloon colours: Black Silver White
Balloon sizes: 5", 10", 15", 18", 32", 36"
Pinwheel panel size: 30cm*30cm
  Details:
  The balloon chain uses 4D mirrored aluminium foil balloons instead of metallic silver which will give the whole venue a stronger, more premium feel and no need to think about oxidation or air leakage, a cool finish. The highlight of the show was the addition of the wind-up panels, which were placed in the middle of the set and made the whole set up look more elegant and upscale. The balloon chains were made smaller and smaller to give a sense of structure.
  For more on the birthday scheme shopping experience, you can see the website :https://topballoonee.com