Christmas is approaching and at this time of year everyone is starting to think of balloon arrangements for Christmas, so if you want to make something special and less difficult, you can refer to our balloon chain. We have abandoned the usual green and red colours instead of white, Tiffany blue and sky blue colour scheme to create a fresh Christmas party decoration that looks more out of the ordinary and gets rid of the big red and green Christmas themed party decorations that people have seen before. It was a cool colour scheme, so we added a touch of metallic silver balloons at the end to give the whole thing a more sophisticated look. There is an overview of the balloon sizes and colours required for the overall balloon chain as below: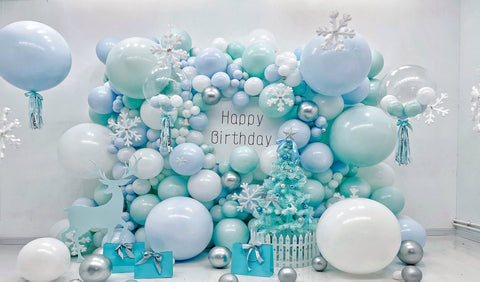 Balloon Colour: White ,Sky Blue ,Tiffany Blue ,Metallic Silver
  Balloon size: 5", 10", 18"
  Special Note: The balloon backdrop is really a work that needs props if you don't have a lot of props to go with the wall, the whole work will definitely look particularly monotonous so that we are ready to make the balloon backdrop, a proper to put some more props.
  For more on the christmas scheme shopping experience, you can see the website :https://www.topballoonee.com