When you think of Christmas themed party decorations, do you only think of the present day colour scheme of red, green and gold. Today I am introducing you to a new colour scheme that will make you all stand out in your Christmas balloon decorations this year and create the best looking Christmas balloon backdrop that your neighbours have been raving about. I'll give you more details about this balloon wall below.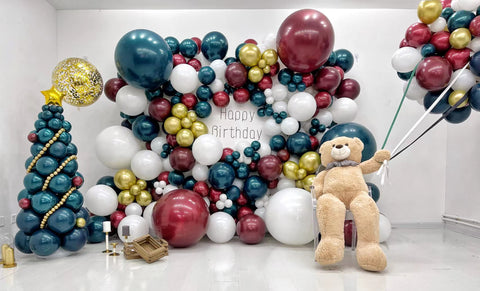 Balloon Colour: Aqua Duck Blue ,Crystal Burgundy ,Black, Metallic Gold ,White
Balloon size: 5" 10" 18" 36"
This is a premium colour scheme for a Christmas themed balloon backdrop. To give a better overall colour blend, all balloons are stacked using sets of balls, Aqua Duck Blue is Aqua Duck Blue with black, Crystal Burgundy is Crystal Burgundy with metallic gold, and Metallic Gold is plain latex balloons without sets of balls. To give the party a more atmospheric decorative style, you can choose to add a doll bear plus an irregular hot air balloon.
Making the Christmas tree part of the decoration
The Christmas tree is made from a combination of 5", 10" and 18" balloons, the bottom two layers are 16" Aqua Duck Blue with black (size 26 and 24CM), further up are all 10" balloons minus two cm 22CM, 20CM, 18CM, 16CM, further up are all 5" balloons, hit 14CM, 12CM, 10CM, 8CM, 6CM.
For more on the Christmas scheme shopping experience, you can see the website :
https://www.topballoonee.com/