Today I would like to introduce you to a balloon arrangement in a summer sea breeze colour scheme, the colour palette of this arrangement is particularly vibrant and gives a particularly strong visual impact, whether it is a baby shower or a birthday arrangement it is particularly suitable. I will explain this piece to you next.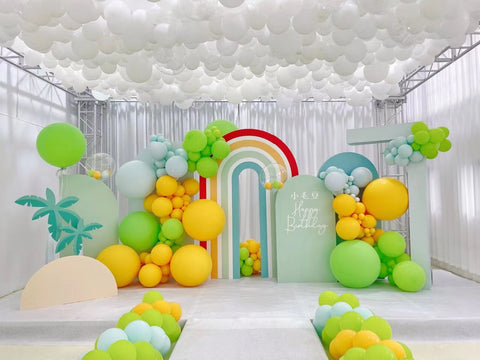 Balloon Colour: Fruity Green,White Tiffany Blue, Yellow Orange
Balloon size: 5" 10" 18" 36"
The colours of this piece are particularly vibrant and I will then explain the colours of this piece. The colours of this piece are: yellow over orange, fruity green and white over Tiffany blue. Normally, when we do balloon arrangements, the safest way is to choose colours that are available on the kt board and play with the colours on the kt board, but this approach will in turn make our work look flat, what should we do to make our work more bright? What can we do to make our artwork more eye-catching? We have to pick colours that are not on the artwork, but are particularly suited to the theme, so that it will be more eye-catching to our customers.
For example, we chose fruit green and white set Tiffany blue as the colour of the balloon, macaroon Tiffany blue is indeed the colour that should be in the picture, because we can not jump the colour jump too badly, but like fruit green this colour is not in the picture. If anything, the colour in the chart should have been macaron green, but the green would have looked more distinct, and it was important to choose a colour that jumped out of the piece itself. The yellow set of orange is a candy colour that everyone knows, and this colour is also very appropriate in this balloon arrangement, because the middle of this KT board is a rainbow, since there is a rainbow of such colourful colours appearing, so that we can be completely bold and open up our thoughts and ideas, so that we can get the desired effect. As for the ceiling, we chose to use pure white balloons to hang the ceiling, which is more in line with the feeling of the sky full of white clouds is particularly fantastic.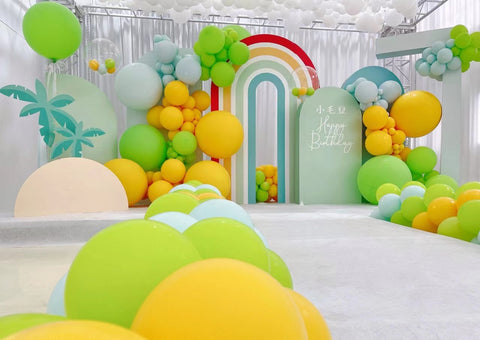 For more on the birthday scheme shopping experience, you can see the website :https://www.topballoonee.com/