Are you still struggling with how to prepare your party decorations for Easter in April? I can offer a compact balloon matching scheme here.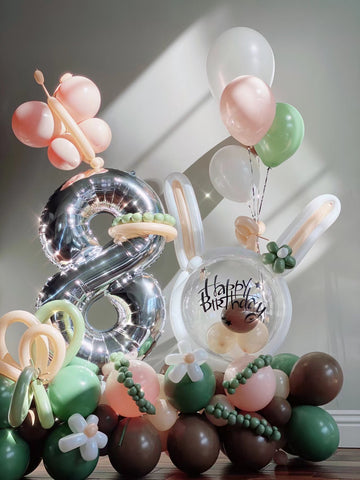 Firstly, start by deciding on a colour scheme for the balloons. For the colour scheme, I suggest choosing avocado green, which is mostly used in summer, and the common colour scheme on bunnies - white and macaron pink - and adding a dark brown to make the overall shade match the colours of nature, and the balloons will look harmonious and natural together. If you come across a year that happens to be worth celebrating, you can add one or more numbered balloons as in the picture above.
Next, prepare on the materials needed. You will generally need to prepare some 160 magic balloons, latex balloons, ribbon, dot glue and an inflatable pump.
You can then work on the balloons, completing the short chain of balloons below well before completing the bobble balloon section and the number balloon section. A special note, the string of small round knotted balls below the balloon chain is more time consuming and has a higher difficulty factor. If you are in a hurry, it is advisable to abandon it.
We hope you all have a happy Easter. For more balloon solutions, please click on the website below:https://www.topballoonee.com