Today I want to bring you two Mother's Day balloon decoration options. The first one is a pink balloon arch scene arrangement, the second one is a stack of soft pink or red heart aluminum foil balloons.
First of all, the first Mother's Day theme of pink balloon arrangement, this arrangement is a light, floral, balloon fusion in a layout, the effect is particularly great and the scene is exquisite, very suitable for some of the better environment of the restaurant as a background.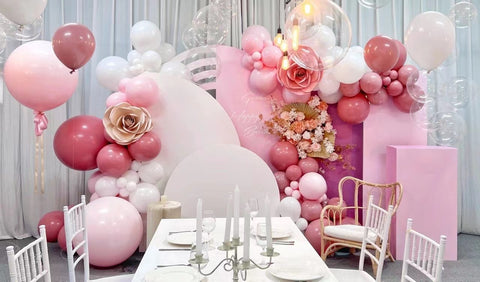 Balloon colours: vintage pink, soft pink, white, black
Balloon sizes: 5", 10", 18", 36"
First of all, let me tell you about the colour scheme of this piece: the dark pink is vintage pink with black, the macaroon pink is white over soft pink and the white is a single layer of white.
The scene is not very big, so if I had only had balloons in it, the whole scene would have looked rather monotonous. So I added flowers and lights, the lights came with the scene.And the dried flowers made the scene more beautiful.
I made two balloon arches in this scene, one main arch and one secondary arch. Regardless of the size of the scene, there should be at least two balloon arches. One balloon arch will make the whole scene look monotonous, so it is better to make a secondary arch if possible, or even if it is not possible, to tie a balloon arch and throw it on the ground.
The second option is to use several aluminium film heart balloons, inflating them with helium, tying them with ribbon and placing them in a bundle on the gift box, which is also very special.
For more on the balloon set shopping experience, you can see the website :https://www.topballoonee.com