White is the most commonly used colour scheme for wedding balloons. However, an all-white balloon chain can only be created by using white balloons of different sizes to create its more layers, so it is important to grasp the size, if you are not slightly sensitive to balloon size, it is extremely easy to make the whole wedding backdrop look dull. The wedding day is every girl's most anticipated day, so here we would like to offer all the beautiful girls a relatively easy solution to add layers to their wedding balloon arrangements and make weddings more beautiful.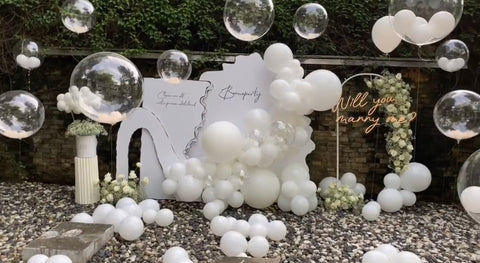 You can add visual layers by using clear bubble balloons. Firstly, clear bubble balloons can be combined with white balloons to make a balloon chain and placed vertically on the backdrop. Secondly, multiple bubble balloon ground floats can be placed around the backdrop, with the bride and groom's names printed on the clear bubble balloons. This is especially suitable for outdoor weddings, when the breeze hits, the bobble balloons float with the wind and the romantic atmosphere of the wedding spreads, and the bobble balloons do not steal the show, they blend well with the white balloons.
  We hope that every girl will have a romantic wedding moment.
  For more on the wedding scheme shopping experience, you can see the website :https://www.topballoonee.com